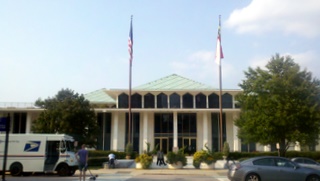 North Carolina has just ratified a bill, signed by the Governor, that is partially entitled,
"AN ACT TO MODERNIZE AND ENACT CERTAIN PROVISIONS REGARDING DEEDS OF TRUST…."
S.B. 679, 2011 Sess. Law 312 (the "Act").
The Act, which is effective October 1, 2011, modifies North Carolina General Statutes in Chapters 24 (Interest), 45 (Mortgages and Deeds of Trust), and 161 (Register of Deeds). It also creates a new statute, N.C. Gen. Stat. § 45-45.3, which is entitled, "Trustee in a deed of trust" and is set out below.  That statute effectively prohibits anyone from naming a trustee under a deed of trust as a defendant in any civil action other than a foreclosure or an exercise of a power of sale.  If a trustee is improperly named as a party, the statute permits the named trustee to seek and receive an involuntary dismissal and costs and attorneys' fees.
N.C. Gen. Stat. § 45-45.3 Applies to All Civil Actions including Condemnation
Because this statute affects civil actions, including eminent domain in North Carolina, we have recently posted about it at CarolinaCondemnationLaw.com.
To read more about this new statute, and find out how to deal with it, you should click here.